"Research into adaptive systems opens up a promising path to greater resource efficiency and climate protection. The involvement of many different industrial partners in the development of adaptive load-bearing and façade elements is the best proof of how basic research and practical application can be very closely intertwined."
Lucio Blandini, head of ILEK since 2020 and responsible for the general planning of D1244
There are numerous opportunities to support the project of the demonstrator skyscraper (D1244) and to use the associated public attention for your company in a promotionally effective way. The connection of industry and scientific work is of great concern to us, so that research and economy can also profit from each other and continue to grow together with the D1244.
Companies from a wide range of product areas support us. The project offers a variety of opportunities for participation! Especially in the realization of the adaptive facades, there is the possibility of support and thereby the option to contribute your own innovative products.
In these areas a support is conceivable:
Actuator technology
Sensors
Provision of consulting services
Provision of hardware components
Sponsoring in the area of facades,
the technical building equipment,
the general infrastructure.
If interested, please contact: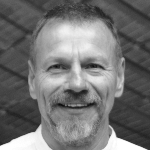 Walter Haase
Dr.-Ing.
Director, Board of Director & Subproject Leader